Magnum Quest is a fully 3D idle role-playing game with a plethora of cool-looking heroes. The world of Magnum Quest is split into six factions, each with its own set of heroes. Without a doubt, choosing the best hero in any game with a large number of heroes is difficult. Magnum Quest also has five different game modes, each of which puts the heroes to the test in a unique way, which is why each character is important in their own right.
We've put together a general tier list so you can quickly see if the hero you just got is truly worth it. It's difficult to choose a character from such a large pool, which is why our tier list is so useful. We'll also help you perform a Magnum Quest reroll, allowing you to start over if you don't get the heroes you want.
Magnum Quest Hero Tier List October 2021
| | | | | |
| --- | --- | --- | --- | --- |
| Tier | Overall | Top Damage | Tank | Supporters |
| Strong (S) | Ares, Sur, Arthur, Harry | Ares, Sur, Issy, Feng, Gila, Ecra, Derla | Rickers, Alden, Harry | Sur, Osishe, Naomi, Ione, Cinia, Emilia, Harry |
| Good (A) | Naomi, Cinia, Aurik, Emilia, Ecra, Gila, Ione, Issy, Fie, Feng, Flann, Katos, Derla | Aurik, Zander, Fie, Hista, Flann, Guss, Sorsha, Veara, Winden | Ares, Fare, Katos, Arthur, Julien | Fare, Aurik, Aeluin, Arthur |
| Fair (B) | Alden, Hista, Cyan, Aeluin, Carlotta, Rickers, Osishe, Fare, Winden | Ione, Katos, Bill, Emilia, Manton, Merialeth | Manton, Bill, Monroe | Fie, Flann, Issy, Cyan, Monroe, Rickers, Merialeth, Winden |
| Weak (C) | Julien, Guss, Veara, Sorsha, Manton | Naomi, Julien, Fare, Alden, Cinia, Monroe, Harry | Sur, Feng, Veara | Veara, Manton, Sorsha, Ecra, Darla, Alden, Guss |
| Very Poor (D) | Monroe, Zander, Bill, Merialeth | Rickers, Arthur | Derla, Ecra, Carlotta, Sorsha | Julien, Gila, Hista |
---
Magnum Quest: Top 5 best Heroes picks for October 2021
1. Ares
Ares is without a doubt the game's most important character. Ares is a tank in Magnum Quest who can deal massive damage, heal, and gain invulnerability for up to 8 seconds. Without a doubt, the most important character in progress, the foundation of the majority of progress teams, as well as one of the top picks on all bosses.
Above all, he is a true beast when combined with Fare, who draws enemies into Ares' cluster AoE damage, and Ione, who grants Ares additional invulnerability and the ability to stay on the battlefield for longer periods of time.
2. Arthur
Arthur is the game's most powerful healer and the best choice for all bosses, bar none, especially when combined with the fortress's extremely effective against bosses' heroes (Feng, Cinia, Ecra). It is more powerful than Aeluin against bosses because it adds an extra shield bar to the team, allowing your heroes to take more damage than their maximum health allows.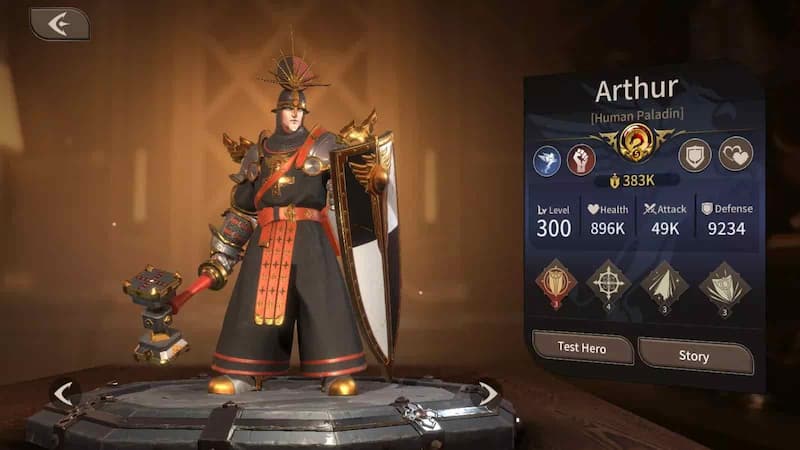 In practise, this means that heroes who do not have invulnerability will be able to withstand an extra damage phase from the guild boss. It is necessary for the hero to survive and attack. The attack buff on the base set, on the other hand, is quite small at first. Because the size of the shields, their healing properties, and the hero's survivability are all dependent on his parameters, this hero is completely useless on low stars.
3. Harry
His AOE is high, which motivates allies and boosts ATK and Haste (probably the most useful parameter in the game). It also demoralises opponents by denying them the ability to move quickly. Harry Magnum's Courageous Hero Magnum Quest is an excellent tank for any combination. The AOE damage he deals to enemies is converted to his own health, allowing him to stay in the thick of the fight for longer.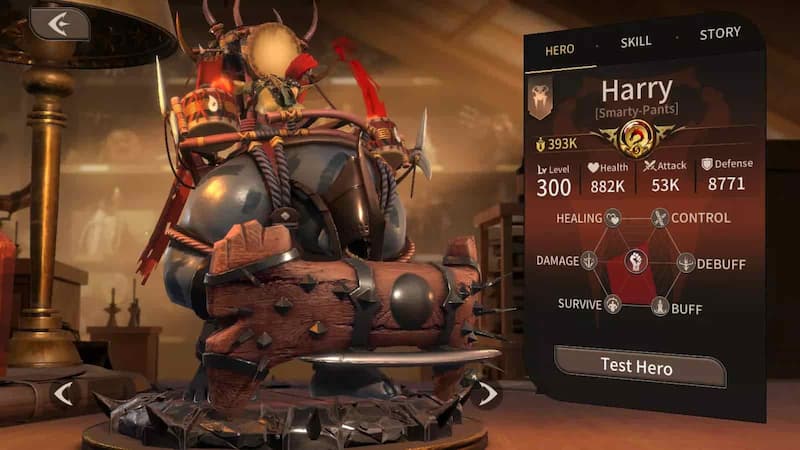 Harry has an intriguing passive effect whose potency is proportional to the number of allies on the battlefield who are still alive. He gains up to 15% protection and damage reduction for EACH ally. This reaches a maximum of 60% at the highest setting. The hero will undoubtedly be useful in faction dungeons, but he will also be useful against bosses, as he has a debuff that increases the target's incoming damage.
4. Sur
Sur is the first Divinity hero in the game. She's a one-of-a-kind combination of supporter, healer, and damage dealer. It heals in a cone perfectly (the same skill also deals damage to enemies), has extremely high survivability for a non-tank, and shares an attack with the rest of the team thanks to its superpower.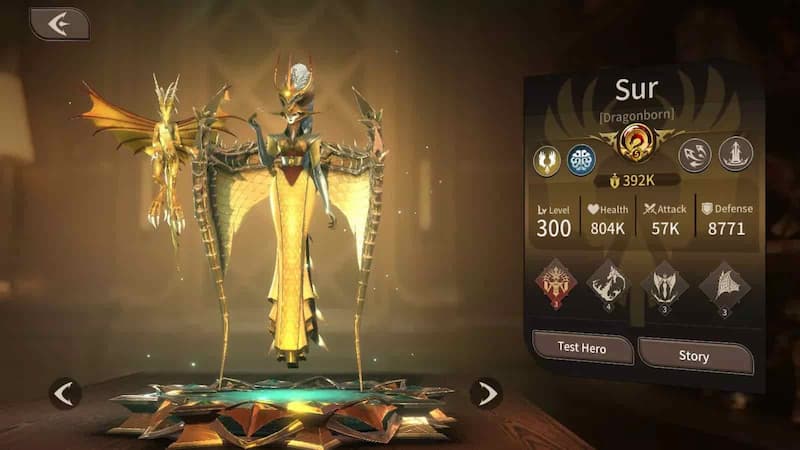 5. Derla
Derla is a powerful Shadow faction member in Magnum Quest. It can be used in either the team's first or second row. She has one of the most powerful area damage attacks in the game, as well as excellent stun control. Yeah! Her ult is truly divine, and it can help clear the wave much more quickly.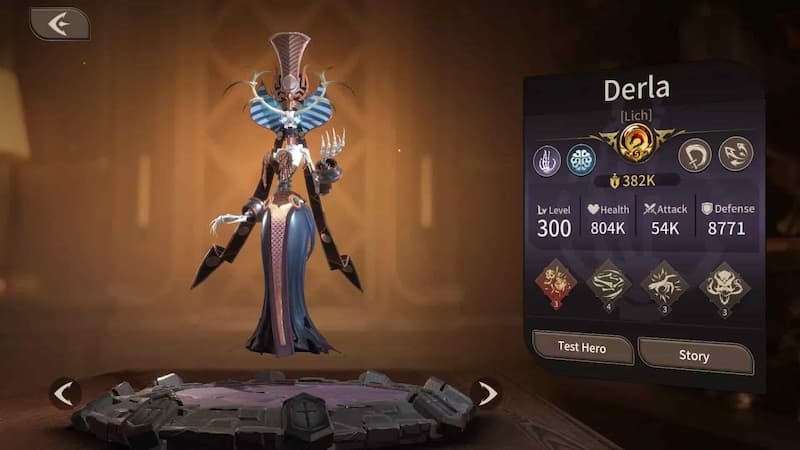 The effectiveness is determined by the stars, and it is fully revealed after a certain amount of time has passed, when the main ability starts pumping HP from enemies.
---
How to reroll in Magnum Quest?
Rerolling allows players to claim Magnum Quest's best heroes a second time. The reroll system in Magnum Quest is a little different than in other games. Even though creating a new account or deleting data is not required, many players are unaware of the steps. Magnum Quest rerolling is a simple process, but it can only be done a certain number of times. Follow the steps outlined below to reroll in Magnum Quest:
At the top-right corner of the screen, click on your profile.
Select the "server" option.
Click "all servers" or simply select the recommended server to find a new server.
To complete this process, click on the server and then confirm.
---
Conclusion
For all of Magnum Quest's heroes, this was the complete tier list. The tiering system is based on our own personal experiences with the game as well as recommendations from a large number of players on the Internet and YouTube. While many of you may disagree, we recommend that players consult a Tier list before choosing a character or putting together a Magnum Quest team. Yeah! It has the potential to be a game-changer.
We appreciate your time in reading and hope you enjoyed this Article. You may also want to check out our Website for more such Trending articles, How-to guides and much more!
If you liked this article, then do Follow Us on Twitter and Instagram. You can also follow us on Pinterest. Yeah! We are on Facebook too.