One of the key advantages of laptops as portable productivity machines is their battery life. And as you all know, Windows 11 promises a great improvement in terms of Battery consumption. While the exact battery life will vary depending on a variety of factors such as the laptop's specifications and your usage habits, battery health is critical to the laptop's overall battery life.
If you've recently noticed that your laptop's battery isn't lasting as long as it used to, it's likely that its health has deteriorated. So today we'll take a look at how to check the health of your laptop battery in Windows 11.
Battery Health in Windows 11
Battery health is a metric for how long your laptop battery will last. The battery's overall full charge capacity decreases as it undergoes multiple charge cycles over several months. The current battery capacity deviates noticeably from the original capacity when you first bought the laptop over time. The percentage of original battery capacity left in your laptop is represented by battery health.
How to find Laptop Battery Health in Windows 11
Kindly follow the below-mentioned steps if you want to check your Laptop's battery health in Windows 11 –
Search for Command Prompt in the Start menu. Select Run as administrator from the right-hand panel. You can also use PowerShell to check the health of your laptop's battery.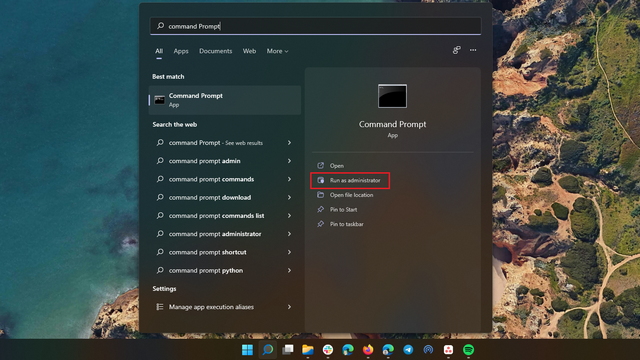 Paste the following command into the Command Prompt window and press Enter. Your Windows 11 laptop's battery report will then be generated.
powercfg /batteryreport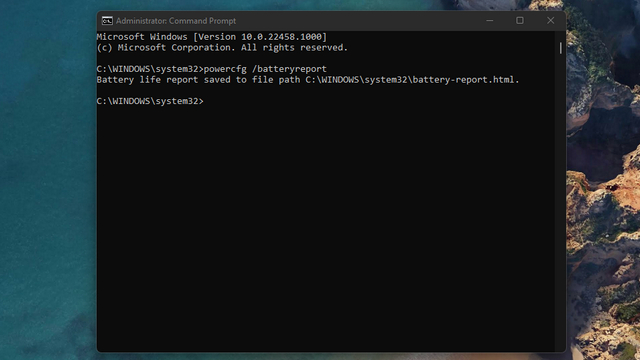 Now go to C:\Windows\system32 and look for the file 'battery-report.html.' On Windows 11, clicking the HTML file will open the report in your default browser. This battery report will include information about the installed batteries, recent usage, battery capacity history, and more for your laptop's battery.
The original design capacity and the current full charge capacity can be found under the 'Installed batteries' section. The total capacity has decreased from 51,300 mWh to 43,069 mWh in this case. Calculating the difference, this Windows 11 laptop's battery health is currently at 84 percent.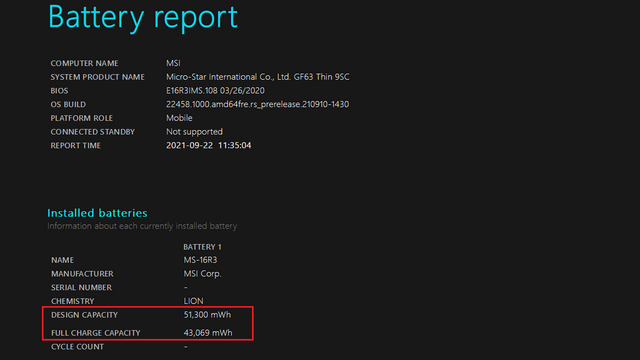 The report also includes a detailed weekly battery capacity history. You can keep track of how your laptop's battery has degraded over months of use this way.
The report also includes estimates for battery life in the current state and at full capacity. It will give you an idea of how much battery life you should get compared to how much battery life you currently get from your laptop.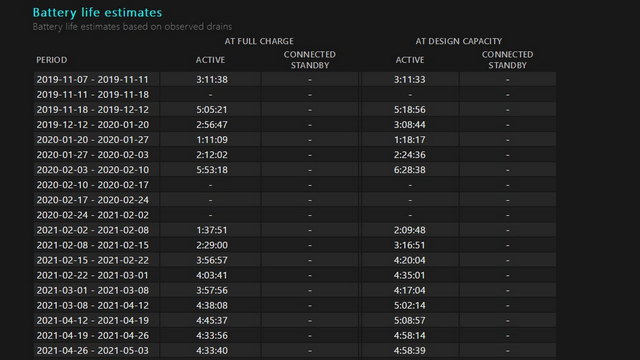 How to Improve Battery Life in Windows 11
Changing the power settings in Windows 11 laptops is an easy way to extend battery life. Laptops usually have three modes: performance, balanced, and power-saving. While you can use performance mode to push your laptop to its limits for resource-intensive tasks, it will reduce battery life.
As a result, it's best to use the laptop in Balanced mode to get the best performance without sacrificing battery life. Of course, depending on your needs, you can change the power mode settings in Windows 11. In our linked article, you'll find detailed instructions on how to do so. Also, check out our article on extending the battery life of Windows laptops for more helpful hints.
We appreciate your time in reading and hope you enjoyed this Article. You may also want to check out our Website for more such Trending articles, How-to guides and much more!
If you liked this article, then do Follow Us on Twitter and Instagram. You can also follow us on Pinterest. Yeah! We are on Facebook too.